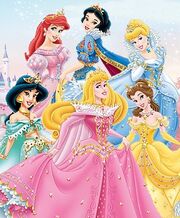 Once Upon a Time, in The Kingdom of Indexes, the King and Queen had a beautiful daughter, whom they named Princess Tropes.
Okay, not quite, but this index is about the various kinds of princesses, and tropes associated with them.
Types of Princesses, or characters who are often Princesses
Edit
Subcategories
This category has the following 2 subcategories, out of 2 total.
Pages in category "Princess Tropes"
The following 43 pages are in this category, out of 43 total.
A

B

C

D

E

F

G

H

J

L

M

O

P

R

R cont.

S

T

W