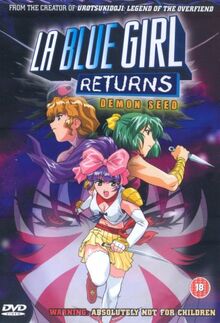 Full title Injū Gakuen: La Blue Girl ("Lewd Beast Academy: La Blue Girl"). A Hentai manga and anime by Toshio Maeda, it depicts the adventures of Miko Mido, a young Ninja-in-training and the next leader of the Miroku ninja clan. The clan has a long history of an alliance with Shikima, a race of perverted demons. They also use sex-related magic and ninja techniques. When the magic item that serves as the symbol of the pact is stolen by enemy ninja clan, Naughty Tentacles ensue.
The series is a bit unusual in that it frequently takes its own genre with a pinch of salt, introducing a lot of humor. Needless to say this page is NSFW.
See entry on The Other Wiki.
---
This anime includes examples of:
Edit
---
Ad blocker interference detected!
Wikia is a free-to-use site that makes money from advertising. We have a modified experience for viewers using ad blockers

Wikia is not accessible if you've made further modifications. Remove the custom ad blocker rule(s) and the page will load as expected.