Miroku ninja clan
Edit
Tropes shared by all the Miroku ninja girls :
Miko Mido
Edit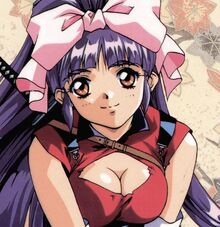 Fearless heroine of La Blue Girl, heiress to the Miroku ninja clan, daughter of the Shikima king, and walking kamasutra of sex ninja moves that leaves her ennemies panting and breathless.
Midget ninja, comic relief, and an extreme case of a peeping Tom who just can't avoid putting his eyes - if not his hands - on the girls.
The buxom lycanthropic ninja girl from the hidden Miroku ninja village. Helps Miko during her fight against Kugutsumen and Kamiri in order to retrieve the stolen treasure of the clan.
Fubuki Kai
Edit
Self-taught ninja and half-demon feisty girl. Initially she wants to take Miko's place at the top of the Miroku ninja clan.
Shikima realm
Edit
Demonic otherworld populated by a diverse set of tentacled horrors.
Queen of the Shikima kingdom, former Miroku kunoichi and long-lost mother of Miko.
King Shikima
Edit
Suzuka clan ninja and next leader.
Ranmaru's sister
Former sexcraft teacher of the Miroku clan turned traitor.
Kugutsumen
Edit
Suzuka ninja turned traitor and Kamiri lover/accomplice.
Ad blocker interference detected!
Wikia is a free-to-use site that makes money from advertising. We have a modified experience for viewers using ad blockers

Wikia is not accessible if you've made further modifications. Remove the custom ad blocker rule(s) and the page will load as expected.