Kunoichi (ninja girls)
Edit
Tropes shared by all ninja girls in the series (either from the Miroku clan - Miko, Yaku and Fubuki -, Suzuka clan - Bosatsu - or gone rogue - Kamiri) :
Miko Mido
Edit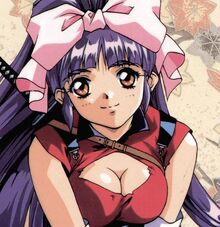 Fearless heroine of La Blue Girl, heiress to the Miroku ninja clan, daughter of the Shikima king, and walking kamasutra of sex ninja moves that leaves her ennemies panting and breathless. A bright and cheerful girl who always keep her spirits high, even at the tentacles of her foes.
Midget ninja, comic relief, and an extreme case of a peeping Tom who just can't avoid putting his eyes - if not his hands - on the girls.
The buxom lycanthropic ninja girl from the hidden Miroku ninja village. Helps Miko during her fight against Kugutsumen and Kamiri in order to retrieve the stolen treasure of the clan. Sensual and strong-willed, she is determined to avenge her fallen comrades - and have fun with a boy or two along the way, too.
Fubuki Kai
Edit
Self-taught ninja and half-demon feisty girl. Initially she wants to take Miko's place at the top of the Miroku ninja clan. Vicious and dirty-minded, she will prove herself a strong opponent for Miko, and a even stronger ally after her defeat.
Shikima realm
Edit
Demonic otherworld populated by a diverse set of tentacled horrors.
Queen of the Shikima kingdom, former Miroku kunoichi and long-lost mother of Miko.
King Shikima
Edit
Suzuka clan ninja and its next leader. A savvy and good-looking villain who is also an hermaphrodite whose main objective is to make Miko submit by using his/her sexual ninja arts.
Ranmaru's sister and a feisty ninja girl of the Suzuka clan.
Former sexcraft teacher of the Miroku clan turned traitor.
Kugutsumen
Edit
Suzuka ninja turned traitor and Kamiri lover/accomplice.