These are the characters from Shinryaku! Ika Musume and tropes that are associated with them.
This page is currently under construction. Any contributions are appreciated.
Ika Musume/Squid Girl
Edit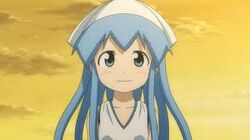 The "protagonist" of the series, an anthropomorphic squid-girl who comes ashore to invade the surface world in retaliation for constant human pollution of the seas, only to end up being forced to work as a waitress at the Lemon Beach House restaurant in order to pay for a damaged wall of the restaurant.
---
  Ika: Oh? About what? (while being dragged by Chizuru to a room)
 Ika: "What's a military?"
Eiko Aizawa
Edit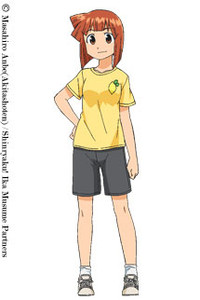 Middle of the Aizawa siblings and manager of the Lemon Beach House, as well as Ika Musume's principal "handler".
---
  "Pain in the ass bodyguard!"
Chizuru Aizawa
Edit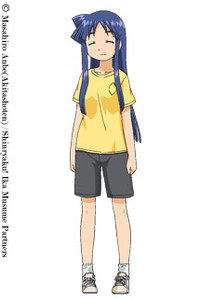 Voiced by: Rie Tanaka (Japanese) and Shelby Lindley (English)
Eldest of the Aizawa siblings.
---
Takeru Aizawa
Edit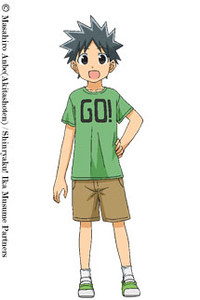 Voiced by: Miki Ootani (Japanese) and Amanda C. Miller (English)
Youngest of the Aizawa siblings.
---
Goro Arashiyama
Edit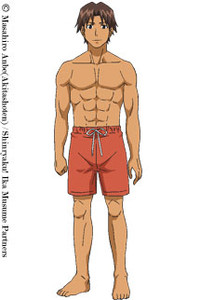 A lifeguard and Eiko's childhood friend, who has his sights for Chizuru.
---
Sanae Nagatsuki
Edit
 Voiced by: Kanae Ito (Japanese) and Xanthe Huynh (English)
Eiko's neighborhood friend who has taken an obsessive liking to Ika.
---
Cindy Campbell
Edit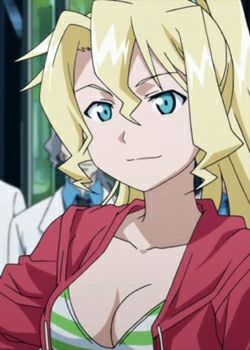 An American alien researcher who comes to Japan to investigate Ika.
---
Nagisa Saito
Edit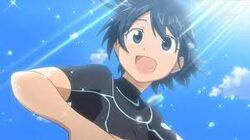 A surfer and part-time worker for Lemon Beach House, and perhaps the only person who sees Ika as a genuine threat to humanity.
---
Ayumi Tokita
Edit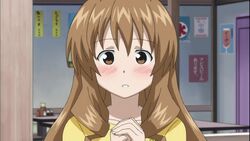 Daughter of the manager of Southern Winds, Lemon Beach House's rival restaurant from a neighboring town. She sometimes works part-time at the Lemon Beach House.
---
Mr. Tokita
Edit
 Voiced by: Rikiya Koyama (Japanese) and Tony Oliver (English)
Ayumi's father whose first name is unknown. He is the Southern Wind's owner. He is fond of making creepy kigurumi based on Ika.
---
Harris, Clark and Martin
Edit
 Voiced by: Seiji Sasaki, Anri Katsu, and Tetsuo Goto (Japanese), and Phineas, Tony Oliver, Jonathan Meza (English)
A trio of American Mad Scientists and MIT graduates who, together with Cindy, investigate Ika.
---
Kiyomi Sakura
Edit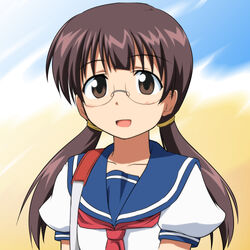 A middle-school student who Ika befriends after a prank gone wrong.
---
Tatsuo Isozaki
Edit
 Voiced by: Shinzou Miyasaka
Goro's friend and fellow lifeguard who tries to flirt with Ayumi.
---
Kozue Tanabe
Edit
 Voiced by: Akemi Kanda (Japanese) and Erika Harlacher (English)
A gentle girl implied to be an anthropomorphic "tako musume" (octopus girl).
---