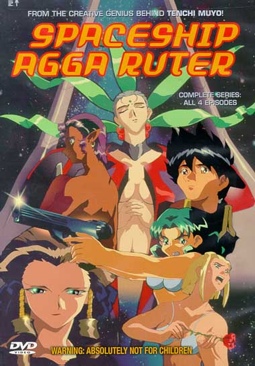 Spaceship Agga Ruter (Space Opera アッガ・ルター) is a four-episode Hentai OVA from Masaki Kajishima, the creator of the Tenchi Muyo franchise.
Spaceship Girl Kei, avatar of the Agga Ruter, has been raising our hero, Taiyo, ever since she found him as an orphaned, stranded child. She's taught him everything she knows (or can figure out) about how to get along with people. Meaning sex. With her.
But now it's time for Taiyo to leave the nest and learn to "get along" with others. Conveniently enough, the Space Pirate Jannis comes along to capture the Agga Ruter and deliver it to the pirate lord Shank. But Taiyo's compassion, "communication skills", and super strength manage to win Jannis over, and the trio set out to search the spaceways for treasure and Lost Technology.
Tropes used in Spaceship Agga Ruter include: