Subpages
Edit
Villains
Edit
https://s.vndb.org/ch/07/39907.jpg
Oboro is the Arch Enemy of Asagi, subordinate to Edwin Black who is also her creator in a sense, and serves as the Big Bad of the series, though she's but one link in the villain chain.
Edwin Black Edit
https://s.vndb.org/ch/58/40458.jpg
Edwin Black is the main, overarching series antagonist, with deep ties to Oboro and the criminal underworld (particularly the supernatural side). He is also a vampire, and while he bears many classic traits of one, his powers are hinted to be much broader.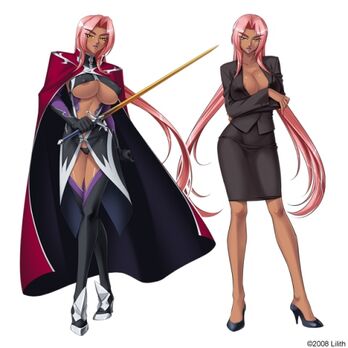 Edwin Black's right hand woman, the Makai Kishin Ingrid, or "Hell Knight" Ingrid is utterly loyal to Black, not to mention has barely concealed feelings for her boss.
Kiryuu Sabato Edit
https://s.vndb.org/ch/66/40466.jpg
The Chief-Scientist for Edwin Black's organization, NOMAD. Originally a human scientist who study the "dark arts", he was killed by Murasaki, but was revived as a demon thanks to his underlings. Kiryuu now plans to overthrow Black for leadership.
https://s.vndb.org/ch/63/40463.jpg
Originally one of several Taimanins that went missing while investigating Tokyo Kingdom, she was apparently captured and turned into a Super Soldier by Oboro's clone. She now serves the clone, and helps Oboro in her plans to mentally break Asagi and Sakura so they can turn them into living weapons just like her.
Power LadyEdit
The muscle-bound champion of the Chaos Arena.
https://s.vndb.org/ch/60/40460.jpg
Another fighter from the Chaos Arena and a henchwoman for Oboro.
Fukumen Sugata no Onna Senshi Edit
A cat-themed fighter from the Chaos Arena.
A Mad Scientist and former mentor to Kiryuu. In Taimanin Asagi 3, he takes over his former student's position as the chief scientist of NOMAD after Kiryuu's capture in Taimanin Murasaki. Like Kiryuu, Furst plans to overthrow Black for leadership.
https://s.vndb.org/ch/39/40339.jpg
The operator of the most popular brothel in Yomihara, Under Eden. He is also the leader of a major prostitution ring, that is also named Under Eden. His brothel specializes in slave prostitutes, where the woman are forced to undergo body modifications to increase sexual pleasure and have magical brands placed on their tongues (lower abdominal in the OVA) that force them to obey his orders. These brands can cause pain, or in the worse case scenario, can cause the branded's limbs to exploded. He is also the one responsible for the disappearance of Shiranui Mizuki. In the bad ending routes it is revealed that he is Yazaki's brother.
Muneichi Yazaki Edit
https://s.vndb.org/ch/44/40344.jpg
The Chief Secretary of Civilian Affairs of the political party in control of the country. Influential in the criminal underground world of humans and demons. A corrupt politician that has been known to do secret under-the-table dealings with the demons. He is also a VIP customer for the Under Eden brothel. It later reveal that Real is his brother.
Slaver Zokuto Edit
https://s.vndb.org/ch/40/40340.jpg
A slaver who enslaves humans engages in human trafficking. A member of the demon race. Cooperates with the Taimanin in exchange for not being persecuted. He was commissioned by Asagi to smuggle Yukikaze and Rinko past the borders of Yomihara, and have the young Taimanins disguise themselves as prostitutes. However, he planned to betray them by selling them out to Real.
Shigeru Washizu Edit
The headmaster of HijiriOsamu academy and an associates of Real. In reality, he is a demon that forces both unsuspecting students and staff into sex slavery. He has some connection to Shiranui's disappearance.
Ryuji Kuroi Edit
He was introduced as a third year student at HijiriOsamu academy who is a part of the scholarship department. He is stated to be a delinquent and is apparently related to the school's headmaster, Shigeru Washizu. During the advent of Taimanin Yukikaze 2, Rinko (who was undercover at time) was assigned to be his maid, as students from the scholarship department are given a maid or a butler. It is later revealed that he is in fact an extremely powerful demon and the true main antagonist in the Yukikaze series.
Kazuma Tendo Edit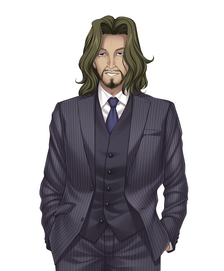 The leader of the House of Greed, a criminal organization that specializes in human trafficking.
https://s.vndb.org/ch/18/44318.jpg
A scythe-weilding demon girl that works for the House of Greed. It would later be revealed in Taimanin Kurenai that she is the daughter of Edwin Black and biological sister of Kurenai.
Kyousuke SawakiEdit
https://s.vndb.org/ch/57/40457.jpg
Asagi's childhood friend and long time boyfriend. Asagi originally retired as a Taimanin just before the advents of the first game in hopes of marrying him, and living a normal life, sadly it was not meant to be.
Kousuke Sawaki Edit
The younger brother of Kyousuke. After his brother death, Asagi decide to raise the boy in honor of her late boyfriend. During the advents of Taimanin Asagi 3, he actually began to form a romantic relationship with Asagi.
The inner demon of Asagi Igawa. During Asagi's investigation of Tokyo Kingdom she encounters a very powerful demon and during their battle the demon hits Asagi with a needle. Due to the extreme circumstances at the time she's in to big of a rush to find out if the needle was some sort of demonic poison(it's never mentioned if the needle was poison or something else entirely). Eventually Asagi and her sister are captured by the Ryuumon, an organization under the control of a cloned Oboro. The clone reveals that Taimanins have demon ancestry and that the Ryuumon want to use them to create an army of super soldiers(like Saya above). Of course this process involves repeated emotional and physical abuse, that of which cause Kage to awaken within Asagi. Asagi and Kage get off to rocky start but eventually Asagi realizes that she needs Kage's power to save Sakura and escape Tokyo Kingdom. During moments of severe duress Kage will appear before Asagi and offer her help.
Oboro Kokawa Edit
https://s.vndb.org/ch/51/39751.jpg
The true Oboro. A former Taimanin, a friend of Asagi's, and blood relative of Asuka. At some point before the first game, Oboro left the Taimanins and joined the US Forces. During her absents, Edwin Black had created several clones of Oboro that would go on masquerading as her for the majority the series. These clones are the "Oboro" that has become Asagi's Arch Enemy, while the real Oboro still sees Asagi as her friend. Oboro makes her first true appearance in Taimanin Asagi 3, as mysterious masked figure.