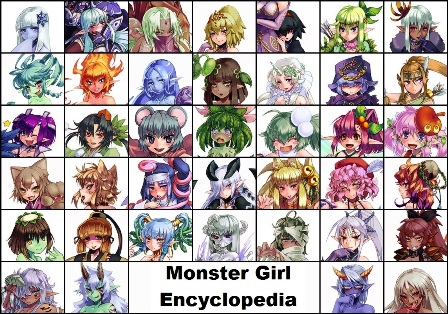 Imagine your typical RPG-style fantasy world, filled with monsters and adventure.
Now replace all of said monsters with Cute Monster Girls, and throw in huge amounts of Fan Service and outright sex. The Monster Girl Encyclopedia is Exactly What It Says on the Tin, a bestiary dedicated to cataloging all the different kinds of Cute Monster Girls in the world. Naturally, the entries are filled with Fetish Fuel, and most are Not Safe for Work.
A compilation of translated entries for the Encyclopedia canon can be found here(needs registration in order to view the contents). New monster species are being added all the time by the original creator , and so the list linked above is not complete yet. Just go to either Danbooru or Gelbooru for the newest additions to the list ( which may not even be translated into English yet). A new -booru has opened recently thanks to the Monster Girl Unlimited staff: MonsterGirlbooru
Also see Living With Monster Girl for a Doujinshi series with similar content.
Also, good news for English speaking countries: Seven Seas Entertainment has licensed the Monster Girl Encyclopedia. The first book is due to be released in september 2016.
Tropes used in The Monster Girl Encyclopedia include: