Torchwood
Edit
For the Cardiff side, please see Torchwood.
Rex Matheson
Edit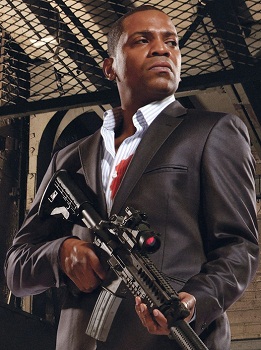 What, you mean Wales is separate? It's like the British equivalent of New Jersey.
 Played by: Mekhi Phifer (2011-present)
A hard-boiled CIA agent with zero patience for Torchwood's antics, Miracle Day's weirdness or Jack's... everything. Gets impaled on Miracle Day and has to live on with a giant hole in his heart. Is very reluctantly roped into joining Torchwood.
   I am sick of Torchwood acting like amateur clowns.
Esther Drummond
Edit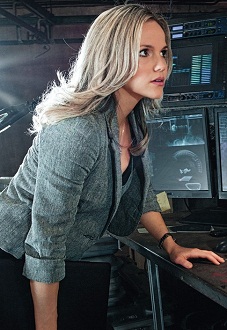 I'm kind of guessing alien doesn't mean foreign.
 Played by: Alexa Havins (2011)
A CIA analyst whose curiosity attracts too much attention. Is asked by Rex to come help out when things go bad, and soon finds herself in way over her head.
Other characters
Edit
Dr. Vera Juarez
Edit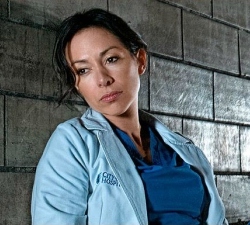 Looks like someone changed the rules. Miracles got... easy.
 Played by Arlene Tur (2011)
Rex' doctor, whose first instinct when Miracle Day happens is to join as many medical panels and discussion groups as possible. Realises soon enough that talking won't save the world, and joins Torchwood.
Oswald Danes
Edit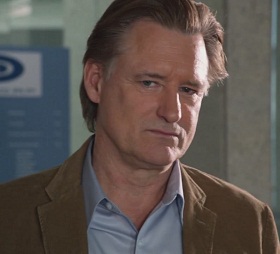 She should have run faster.
 Played by: Bill Pullman (2011)
A convincted child rapist and murderer whose execution happened to take place on Miracle Day. Decides to manipulate the media and secure his freedom.
Jilly Kitzinger
Edit
  Frankly I think if the Devil himself were to walk this earth, he'd need representation.
 Played by: Lauren Ambrose (2011-present)
A mouthy Phicorp PR woman with impossible amounts of lipstick and her conscience very neatly tucked away. Thinks she can cope with Oswald Danes.
  Jilly: Personally? It's your hands. I can't look at your hands without thinking about what they did.
 Vera Juarez: This is disgusting.

Jilly Kitzinger: I KNOW!!
The Three Families
Edit
 We are everywhere. We are always. We are no one. And soon the families will rise.
The Blessing